Here we are again!
Another week and another spill.
I've decided to take another hiatus for no specific reason and come back after it with tons of things I want to share. Wendy Williams got nothing on me!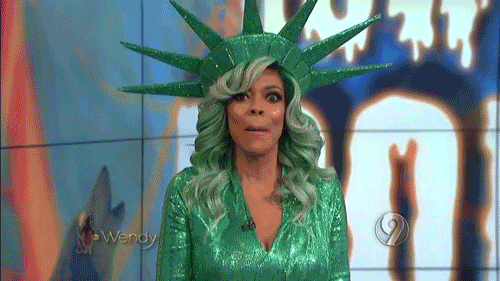 But before I leave, I have important news I have to share with you.
I have decided to become vegan. I am finally illuminated by the posts vegans share of cute animals asking us not to eat them. I am going to delete all the meat recipes from the blog and remove meat photos from Instagram
I have decided to join a gym and get my summer body ready for some sun, sand, salt water, and the eyes of those hungry for this vegan meat!
I will be living off juices and smoothies. No solid food for 4 days a week. Coffee is out of sight. Also, alcohol would be off the menu. No alcohol, no partying, no socializing and outings to cut down the temptations. Yes, it is a month of major changes!
Expect to see tons of recipes of smoothies and green juices. Like 5 recipes a week. Since I'm turning vegan and won't be wasting time chewing food and going out, I will be happier, more energetic, and more productive. So let's do it.
AND Here is the BIG news.
After all the different jobs I've tried, I have decided to take up becoming an instagram fashion influencer. I have a killer fashion sense. I have watched many fashion tutorials to qualify me enough to be able to match clothes and accessories from thrift stores and medium end brands and produce iconic fashion statements when I wear them in my daily life and the share them in thousands of stories on my instagram
It also comes with a package. I'll have so much spare time from not chewing food that I'll be using for meditating and practicing yoga. Would I be a fashion influencer if I didn't share my outfit, yoga outfit, gym outfit, and bed outfit?
In that light of instagram, I have decided to go full fledged influencer and buy followers to reach the 10k mark. First to receive the SWIPE UP feature (I know we all love that), second is to capture the short-term attention of fashion brands (after tagging them a billion times) to sponsor my future posts. Sounds like a good plan to me.
Oh and my instagram will be all grid. following the poll I shared last week, I decided to ignore all your votes and bombard you with tons of useless images only to make sense when the grid is viewed from outer space. An influencer's gotta do what an influencer's gotta do.
So, Vegan. Fashion. And Influencer. What else?
As a fashion ICON! I will be dyeing my hair turquoise green. Because what else can tell the world I am having a personal crisis than desperately trying to change the way I look? Comes with the package, my teeth will be covered by a new set of pearly white veneers that double up as light reflectors in the night to help me when I glamour-sly walk from bed. to the bathroom in the middle of the night. I am asking for them to be glow in the dark, but that affect the color in daylight. The dentist said they would look like normal beige teeth with the glow in the dark pain on. So forget it
---
---
---
If you've made it this far without unfollowing me, I advise you to look at your calendar (or the date this post is published on)
I made all this up just to poke fun at some social media behaviors and do something special for April's fool. You've been fooled.
In case you felt offended, let me know so I can release a sad video of me crying about my mistake and how the internet hates me and how those words came out of the demons that possessed my body while I smell an onion from the next recipe I'm posting just to get tears.
Now go out and don't lie to anyone. At least not harmful lies